Results posted below.
Miguel Marroquin, Brittany Layton and Carmen Tovar make it into the top 10.
Click here to download video of Esteban and Mr. Anderson
With seperate buses for boys and girls Banning High came to the event 70+ strong. Esteban Carranza was 3rd overall and 2nd in his age division. Mr. Anderson was 3rd in his age division. But most importantly everyone finished the race and it seemed like everyone had a good time doing it. Next race is twice as long but we have time to get ready. Be determined to improve even more.
Isbeth Burrola and Mayra Giles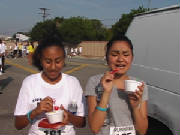 Jose Bonilla and Hancel Zugal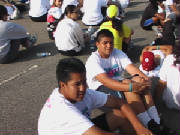 Mayra D, Adriana G, Carmen T and Itzel C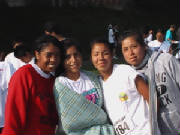 Myra Cano and Edwin Castaneda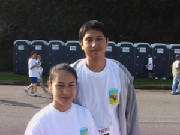 Jonathan Infante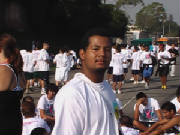 Mario Pineda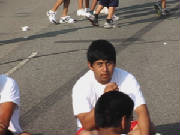 Christian Estrada, Edith Hernandez, Laura Barba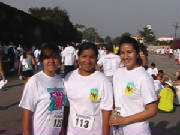 Andrew Paramo, Richard Aguero and Chris Paramo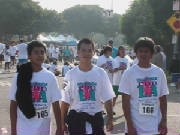 Viviana Prado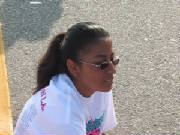 Brenda Zepeda and Maria Tafolla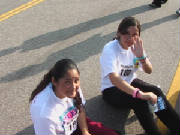 Jonathan Dominguez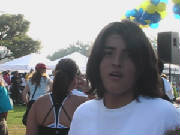 and Stephanie Lopez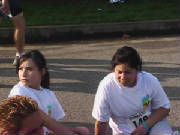 Jose Hernandez w/Junior and his bro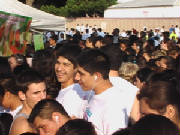 Sergio Uribe, Josh Diaz and Megan Mendoza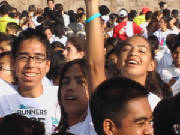 Elana Stevanus and Darlene Tinajero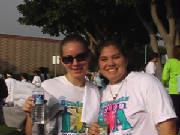 Ms. McGlaughlin finishes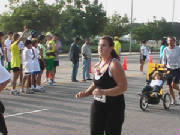 Ms. Gant finishes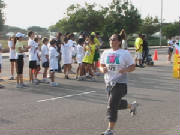 Edgardo Echeverria and Martha Ramirez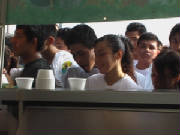 get some Ice Cream
Jesse Rodriguez, Francisco Garcia, Rafael Juarez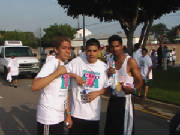 Fernando Ledesma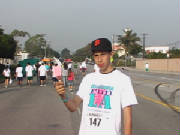 Enter content here

Enter content here

Enter content here
| | | | | | | | | | |
| --- | --- | --- | --- | --- | --- | --- | --- | --- | --- |
| First | Last | Age | Sex | Division | Time | Place | Div | DivTot | AveMile |
| Richard | Aguero | 17 | M | M1519 | 44:50 | 2776 | 515 | 542 | 14:28 |
| Mr. | Anderson | 54 | M | M5054 | 24:06 | 231 | 3 | 28 | 7:47 |
| Ashley | Andrade | 17 | F | F1519 | 38:35 | 1872 | 265 | 507 | 12:27 |
| Jose | Arregui | 16 | M | M1519 | 38:33 | 1865 | 439 | 542 | 12:26 |
| Laura | Barba | 17 | F | F1519 | 41:41 | 2332 | 369 | 507 | 13:27 |
| Crebin | Bergado | 17 | M | M1519 | 34:58 | 1265 | 362 | 542 | 11:17 |
| Jose | Bonilla | 15 | M | M1519 | 29:44 | 829 | 283 | 542 | 9:36 |
| Martha | Ramirez | 18 | F | F1519 | 32:09 | 1089 | 125 | 507 | 10:22 |
| Luis | Camacho | 17 | M | M1519 | 27:50 | 598 | 230 | 542 | 8:59 |
| Myra | Cano | 16 | F | F1519 | 1:02:52 | 3261 | 506 | 507 | 20:17 |
| Edith | Hernandez | 15 | F | F1519 | 41:42 | 2333 | 370 | 507 | 13:27 |
| Esteban | Carranza | 16 | M | M1519 | 17:29 | 3 | 2 | 542 | 5:39 |
| Itzel | Carranza | 16 | F | F1519 | 25:12 | 317 | 14 | 507 | 8:08 |
| Vanessa | Carranza | 17 | F | F1519 | 49:44 | 3003 | 477 | 507 | 16:03 |
| Edwin | Castaneda | 17 | M | M1519 | 1:02:54 | 3262 | 541 | 542 | 20:18 |
| John | Cruz | 17 | M | M1519 | 34:59 | 1267 | 364 | 542 | 11:18 |
| Josh | Diaz | 16 | M | M1519 | 35:59 | 1361 | 389 | 542 | 11:37 |
| Shannon | Diaz | 14 | F | F1114 | 33:12 | 1149 | 102 | 693 | 10:43 |
| Jonathan | Dominguez | 16 | M | M1519 | 33:35 | 1169 | 343 | 542 | 10:50 |
| Mayra | Duran | 17 | F | F1519 | 29:16 | 756 | 67 | 507 | 9:27 |
| Edgardo | Echeverria | 17 | M | M1519 | 29:19 | 761 | 265 | 542 | 9:28 |
| Christian | Estrada | 17 | F | F1519 | 41:41 | 2331 | 368 | 507 | 13:27 |
| Sandy | Luna | 17 | F | F1519 | 38:58 | 2069 | 308 | 507 | 12:35 |
| Ms. | Gant | 25 | F | F2529 | 43:28 | 2683 | 55 | 80 | 14:02 |
| Adriana | Garcia | 16 | F | F1519 | 29:15 | 755 | 66 | 507 | 9:27 |
| Ms. | Garcia | 29 | F | F2529 | 37:04 | 1540 | 26 | 80 | 11:58 |
| Francisco | Garcia | 18 | M | M1519 | 26:19 | 423 | 184 | 542 | 8:30 |
| Mrs. | Garcia | 28 | F | F2529 | 36:56 | 1502 | 25 | 80 | 11:55 |
| Yoni | Garcia | 16 | M | M1519 | 21:44 | 110 | 62 | 542 | 7:01 |
| Mayra | Giles | 15 | F | F1519 | 25:55 | 391 | 29 | 507 | 8:22 |
| Johnny | Gonzalez | 16 | M | M1519 | 20:08 | 45 | 31 | 542 | 6:30 |
| Anthony | Hernandez | 16 | M | M1519 | 34:18 | 1193 | 348 | 542 | 11:04 |
| Gabriel | Hernandez | 16 | M | M1519 | 23:34 | 192 | 100 | 542 | 7:36 |
| Jose | Hernandez | 15 | M | M1519 | 21:59 | 117 | 67 | 542 | 7:06 |
| Jonathan | Infante | 17 | M | M1519 | 50:26 | 3035 | 529 | 542 | 16:17 |
| Rafael | Juarez | 17 | M | M1519 | 29:07 | 747 | 262 | 542 | 9:24 |
| Pedro | Larios | 17 | M | M1519 | 19:47 | 36 | 24 | 542 | 6:23 |
| Brittany | Layton | 16 | F | F1519 | 25:14 | 319 | 16 | 507 | 8:09 |
| Mariana | Lazarin | 16 | F | F1519 | 38:33 | 1866 | 263 | 507 | 12:27 |
| Fernando | Ledesma | 17 | M | M1519 | 23:28 | 188 | 97 | 542 | 7:35 |
| Stephanie | Lopez | 17 | F | F1519 | 38:58 | 2068 | 307 | 507 | 12:35 |
| Miguel | Marroquin | 16 | M | M1519 | 18:49 | 18 | 12 | 542 | 6:05 |
| Claudia | Martinez | 17 | F | F1519 | 36:46 | 1434 | 188 | 507 | 11:52 |
| Emmanuel | Martinez | 16 | M | M1519 | 38:35 | 1873 | 441 | 542 | 12:27 |
| Ms. | McGlaughlin | 23 | F | F2024 | 43:28 | 2684 | 30 | 35 | 14:02 |
| Mr. | Mendoza | 37 | M | M3539 | 29:41 | 822 | 15 | 44 | 9:35 |
| Megan | Mendoza | 16 | F | F1519 | 38:35 | 1874 | 266 | 507 | 12:27 |
| Jose | Mercado | 16 | M | M1519 | 23:22 | 185 | 96 | 542 | 7:32 |
| Ms. | Moncloa | 37 | F | F3539 | 37:03 | 1538 | 15 | 44 | 11:58 |
| Giovani | Muniz | 18 | M | M1519 | 38:47 | 1995 | 451 | 542 | 12:31 |
| Cynthia | Murillo | 17 | F | F1519 | 34:50 | 1253 | 158 | 507 | 11:14 |
| Fernando | Navarrete | 17 | M | M1519 | 22:46 | 144 | 80 | 542 | 7:21 |
| Isbeth | Burrola | 17 | F | F1519 | 25:55 | 390 | 28 | 507 | 8:22 |
| Miguel | Noriega | 17 | M | M1519 | 30:29 | 881 | 296 | 542 | 9:50 |
| Lauriano | Bucio | 17 | M | M1519 | 20:07 | 44 | 30 | 542 | 6:30 |
| Anna | Padilla | 16 | F | F1519 | 50:27 | 3036 | 484 | 507 | 16:17 |
| Andrew | Paramo | 13 | M | M1114 | 44:56 | 2777 | 712 | 833 | 14:30 |
| Chris | Paramo | 17 | M | M1519 | 29:50 | 841 | 285 | 542 | 9:38 |
| Dilia | Perez | 16 | F | F1519 | 28:48 | 700 | 60 | 507 | 9:18 |
| Gabriela | Perez | 17 | F | F1519 | 32:55 | 1133 | 134 | 507 | 10:38 |
| Mario | Pineda | 17 | M | M1519 | 40:41 | 2237 | 476 | 542 | 13:08 |
| Viviana | Prado | 17 | F | F1519 | 38:45 | 1979 | 288 | 507 | 12:30 |
| Salvador | Rios | 16 | M | M1519 | 26:23 | 432 | 188 | 542 | 8:31 |
| Jesse | Rodriguez | 17 | M | M1519 | 29:07 | 748 | 263 | 542 | 9:24 |
| Luis | Rosas | 17 | M | M1519 | 43:01 | 2545 | 500 | 542 | 13:53 |
| Daisy | Salas | 16 | F | F1519 | 30:30 | 883 | 84 | 507 | 9:51 |
| Junior | Silva | 15 | M | M1519 | 23:32 | 190 | 98 | 542 | 7:36 |
| Elana | Stevanus | 16 | F | F1519 | 35:34 | 1311 | 168 | 507 | 11:29 |
| Mariana | Tafolla | 17 | F | F1519 | 43:20 | 2644 | 423 | 507 | 13:59 |
| Darlene | Tinajero | 16 | F | F1519 | 40:30 | 2217 | 336 | 507 | 13:04 |
| Andres | Torres | 17 | M | M1519 | 50:22 | 3028 | 528 | 542 | 16:15 |
| Carmen | Tovar | 16 | F | F1519 | 25:17 | 322 | 18 | 507 | 8:10 |
| Sergio | Uribe | 16 | M | M1519 | 35:43 | 1334 | 383 | 542 | 11:32 |
| Eneyda | Vasquez | 17 | F | F1519 | 43:03 | 2564 | 409 | 507 | 13:54 |
| Brenda | Zepeda | 16 | F | F1519 | 43:20 | 2645 | 424 | 507 | 13:59 |
| Hancel | Zugal | 17 | M | M1519 | 32:09 | 1090 | 329 | 542 | 10:23 |