Click here for pictures of Marathon Finishers
Johnson Opportunity High School, located at 333 E. 54th Street in South Central Los Angeles, was one of the first schools to participate in Students Run L.A. The Principal, Mrs. Wilma Manyweather, was a strong supporter of the program and Ms. Rhea was the first leader. I (Mr. Mendoza) took over the program in 1997 and left for Banning in 2003. Here are some of the participants from those years.
Click here for the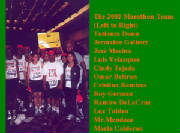 2002 Marathon Team Photo
Totianta Dunn wins $100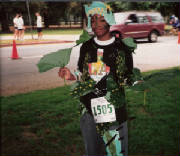 in Costume Contest (and set 5K record)
2002 Team Photo Fall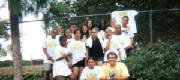 Images from the 2000 Marathon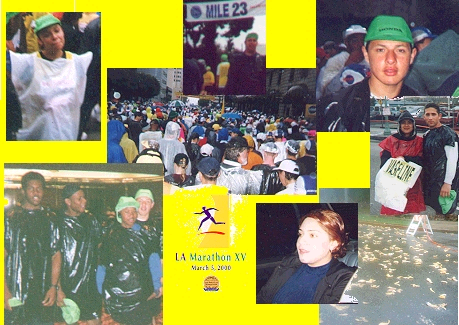 This picture from 1999 was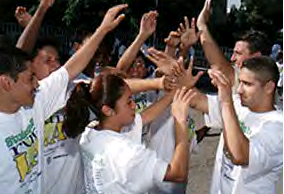 on srla.org for several years.
click here to download 2002 Marathon Power Point with many pictures and stats from the 2002 team (10.9 MB)




| | | | | | | | | | | | | |
| --- | --- | --- | --- | --- | --- | --- | --- | --- | --- | --- | --- | --- |
| | 3.1 Miles/5 K - Boys | Time | Year | Location | Condition | | | 3.1 Miles/5K - Girls | Time | Year | Location | Condition |
| 1 | Jose Mecina | 21:04 | 2001 | Downtown | Cloudy | | 1 | Totianta Dunn | 20:53 | 2001 | Griffith Park | Cloudy |
| 2 | Rene Estupinian | 21:11 | 1998 | Downtown | Nice | | 2 | Totianta Dunn | 23:05 | 2001 | Gardena 5000 | Nice |
| 3 | Omar Ramos | 21:19 | 2002 | Griffith Park | Nice | | 3 | Totianta Dunn | 24:39 | 2001 | Downtown | Cloudy |
| 4 | Rene Estupinian | 21:27 | 1998 | Downtown | Nice | | 4 | Blanca Cuevas | 25:32 | 2001 | Griffith Park | Cloudy |
| 5 | Omar Beltran | 21:36 | 2001 | Gardena 5000 | Nice | | 4 | Evelyn Cruz | 25:32 | 2001 | Griffith Park | Cloudy |
| 6 | Omar Beltran | 21:39 | 2001 | Downtown | Cloudy | | 6 | Casy Marin | 26:18 | 2000 | Downtown | Nice |
| 7 | Beny Montenegro | 21:55 | 2000 | Dodger Stadium | Nice | | 7 | Casy Marin | 26:50 | 2000 | Downtown-Hills | Wind |
| 7 | Rene Estupinian | 22:05 | 1999 | Dodger Stadium | Nice | | 8 | Evelyn Cruz | 27:13 | 2000 | Downtown | Nice |
| 9 | Rene Estupinian | 22:05 | 1999 | Downtown | Nice | | 9 | Evelyn Cruz | 28:38 | 2001 | Gardena 5000 | Cloudy |
| 10 | Jose Mecina | 22:11 | 2001 | Griffith Park | Cloudy | | 10 | Ivet Renteria | 28:55 | 2002 | South Pasadena | Nice |
| | Mendoza's Best | 22:09 | 2000 | Downtown | Nice | | | Manyweather's Best | 41:36 | 1999 | Downtown | Nice |
| | | | | | | | | | | | | |
| | 6.2 Miles/10K - Boys | Time | Year | Location | Condition | | | 6.2 Miles/10K - Girls | Time | Year | Location | Condition |
| 1 | Jose Mecina | 45:50 | 2002 | Chinatown | Sunny/Nice | | 1 | Totianta Dunn | 55:47 | 2001 | Griffith Park | Cloudy |
| 2 | Beny Montenegro | 45:54 | 2000 | North Hollywood | Nice | | 2 | Blanca Cuevas | 58:46 | 2000 | Griffith Park | Nice |
| 3 | Beny Montenegro | 47:39 | 1999 | East L.A. Aztlan | Cloudy | | 3 | Casy Marin | 1:02:46 | 2000 | North Hollywood | Nice |
| 4 | Rene Estupinian | 47:48 | 1999 | Paramount Studios | Nice | | 4 | Blanca Cuevas | 1:03:32 | 2002 | Chinatown | Nice |
| 5 | Justin McCollums | 48:01 | 2002 | UCLA | Cloudy | | 5 | Casy Marin | 1:04:03 | 2000 | Griffith Park | Nice |
| 6 | Steve Sencion | 48:06 | 1998 | San Pedro | Nice | | 6 | Maribel Gonzalez | 1:05:36 | 1999 | East L.A. Aztlan | Cloudy |
| 7 | Christian Sanders | 48:21 | 2002 | UCLA | Cloudy | | 7 | Noelia DeLaTorre | 1:05:41 | 1999 | East L.A. Aztlan | Cloudy |
| 8 | Brian Andrews | 48:54 | 2002 | Griffith Park | Nice | | 8 | Cindy Tejada | 1:06:36 | 2001 | Griffith Park | Cloudy |
| 9 | Rene Estupinian | 49:50 | 1999 | San Pedro | Nice | | 9 | Cristina Ramirez | 1:06:48 | 2002 | Griffith Park | Nice |
| 10 | Beny Montenegro | 50:04 | 2000 | Chinatown | Windy | | 10 | Evelyn Cruz | 1:06:51 | 2001 | Chinatown | Nice |
| | Mendoza's Best | 46:04 | 2000 | Griffith Park | Nice | | | Manyweather's Best | 1:26:06 | 1998 | San Pedro | Nice |
| | | | | | | | | | | | | |
| | 9.3 Miles/15 K - Boys | Time | Year | Location | Condition | | | 9.3 Miles/15K - Girls | Time | Year | Location | Condition |
| 1 | Omar Beltran | 1:06:50 | 2001 | Sports Arena | Nice | | 1 | Totianta Dunn | 1:17:05 | 2001 | Sports Arena | Nice |
| 2 | Jermaine Galbert | 1:08:35 | 2001 | Sports Arena | Nice | | 2 | Blanca Cuevas | 1:25:41 | 2000 | Staples Center | Nice |
| 3 | Jose Mecina | 1:09:43 | 2001 | Sports Arena | Nice | | 3 | Cindy Tejada | 1:39:12 | 2001 | Sports Arena | Nice |
| 4 | Ramiro DeLaCruz | 1:09:44 | 2001 | Sports Arena | Nice | | 4 | Noelia DeLaTorre | 1:40:58 | 2000 | Staples Center | Nice |
| 5 | Rene Estupinian | 1:10:58 | 1998 | Venice Beach | Nice | | 5 | Noelia DeLaTorre | 1:42:54 | 1999 | Venice Beach | Chilli |
| 6 | Jose Mecina | 1:17:40 | 2000 | Staples Center | Nice | | 6 | Maribel Gonzalez | 1:44:32 | 1999 | Venice Beach | Chilli |
| 7 | Brian Andrews | 1:18:54 | 2002 | Long Beach | Nice | | 7 | Channel Pierce | 1:46:00 | 2000 | Staples Center | Nice |
| 8 | Luis Velazquez | 1:20:33 | 2001 | Sports Arena | Nice | | 8 | Liliana Alonso | 1:46:03 | 2000 | Staples Center | Nice |
| 9 | Maurice Bingham | 1:22:28 | 1998 | Venice Beach | Nice | | 9 | Ivet Renteria | 1:51:03 | 2002 | Long Beach | Nice |
| 10 | Jose Ramirez | 1:22:55 | 1998 | Venice Beach | Nice | | 10 | Cristina Ramirez | 1:52:41 | 2001 | Sports Arena | Nice |
| | Mendoza's Best | 1:06:19 | 2000 | Staples Center | Nice | | | | | | | |
| | | | | | | | | | | | | |
| | 13.1 Miles/21.1 K - Boys | Time | Year | Location | Condition | | | 13.1 Miles/21.1 K - Girls | Time | Year | Location | Condition |
| 1 | Omar Beltran | 1:42:26 | 2001 | Culver City | Cloudy/Cool | | 1 | Totianta Dunn | 2:06:07 | 2001 | Culver City | Cloudy/Cool |
| 2 | Jose Mecina | 1:42:27 | 2001 | Culver City | Cloudy/Cool | | 2 | Evelyn Cruz | 2:11:03 | 2000 | Culver City | Sun/Fog |
| 3 | Jermaine Galbert | 1:47:35 | 2001 | Culver City | Cloudy/Cool | | 3 | Totianta Dunn | 2:14:28 | 2002 | Irvine | Sunny/Cool |
| 4 | Jose Mecina | 1:47:35 | 2002 | Irvine | Sunny/Cool | | 4 | Blanca Cuevas | 2:16:06 | 2000 | Culver City | Sun/Fog |
| 5 | Rene Estupinian | 1:52:53 | 1998 | Culver City | Wind/Cold | | 5 | Evelyn Cruz | 2:23:14 | 2001 | Irvine | Sunny/Cool |
| 6 | Aron Flores | 1:52:55 | 1998 | Culver City | Wind/Cold | | 6 | Lorena Ramirez | 2:28:41 | 2000 | Irvine | Nice |
| 7 | Omar Beltran | 1:56:32 | 2002 | Irvine | Sunny/Cool | | 7 | Noelia DeLaTorre | 2:36:58 | 2000 | Culver City | Sun/Fog |
| 8 | Ramiro DeLaCruz | 2:00:32 | 2001 | Culver City | Cloudy/Cool | | 8 | Blanca Cuevas | 2:38:55 | 2001 | Irvine | Sunny/Cool |
| 9 | Jermaine Galbert | 2:02:03 | 2002 | Irvine | Sunny/Cool | | 9 | Maribel Gonzalez | 2:39:06 | 1999 | Irvine | Nice |
| 10 | Brian Andrews | 2:04:03 | 2003 | Irvine | Nice | | 10 | Maribel Gonzalez | 2:40:59 | 2000 | Irvine | Nice |
| | Mendoza's Best | 1:40:17 | 2000 | Culver City | Sun/Fog | | | Manyweather's Best | 3:12:45 | 2000 | Irvine | Nice |
| | | | | | | | | | | | | |
| | 18.6 Miles/30 K - Boys | Time | Year | Location | Condition | | | 18.6 Miles/30 K - Girls | Time | Year | Location | Condition |
| 1 | Jermaine Galbert | 3:10:41 | 2002 | Hansen Dam | Nice | | 1 | Totianta Dunn | 3:35:09 | 2002 | Hansen Dam | Nice |
| 2 | Jose Mecina | 3:10:42 | 2002 | Hansen Dam | Nice | | 2 | Evelyn Cruz | 3:45:32 | 2001 | Hansen Dam | Rain/Cold |
| 3 | Rene Estupinian | 3:16:17 | 1999 | Hansen Dam | Nice | | 3 | Blanca Cuevas | 3:45:32 | 2001 | Hansen Dam | Rain/Cold |
| 4 | Steve Sencion | 3:25:28 | 1999 | Hansen Dam | Nice | | 4 | Noelia DeLaTorre | 4:26:52 | 2000 | Hansen Dam | Rain/Cold |
| 5 | Christian Sanders | 3:35:31 | 2003 | Hansen Dam | Nice/Wind | | 5 | Casy Marin | 4:30:00 | 2001 | Hansen Dam | Rain/Cold |
| 6 | Brian Andrews | 3:37:39 | 2003 | Hansen Dam | Nice/Wind | | 6 | Ivet Renteria | 4:34:25 | 2003 | Hansen Dam | Nice/WInd |
| 7 | Justin McCollums | 3:37:41 | 2003 | Hansen Dam | Nice/Wind | | 7 | Maribel Gonzalez | 4:36:11 | 1999 | Hansen Dam | Nice |
| 8 | Jose Mecina | 3:44:12 | 2001 | Hansen Dam | Rain/Cloud | | 8 | Kaiesha George | 4:43:17 | 1999 | Hansen Dam | Nice |
| 9 | B.J. Holland | 4:01:48 | 2001 | Hansen Dam | Rain/Cloud | | 9 | Ralanah Anderson | 4:46:01 | 2001 | Hansen Dam | Rain/Cold |
| 10 | Ramiro DeLaCruz | 4:27:43 | 2003 | Hansen Dam | Nice/Wind | | 10 | Leticia Martinez | 5:05:25 | 2003 | Hansen Dam | Nice/Wind |
| | Mendoza's Best | 2:57:06 | 2001 | Hansen Dam | Rain/Cloud | | | Manyweather's Best | 4:45:55 | 1999 | Hansen Dam | Nice |
| | | | | | | | | | | | | |
| | 26.2 Miles/42.4 K - Boys | Time | Year | Location | Condition | | | 26.2 Miles/42.4 K - Girls | Time | Year | Location | Condition |
| 1 | Steve Sencion | 4:26:52 | 1999 | LA Marathon XIV | Nice | | 1 | Evelyn Cruz | 5:37:21 | 2001 | LA Marathon XVI | Cloud/Cool |
| 2 | Jose Mecina | 4:36:48 | 2002 | LA Marathon XVII | Nice | | 2 | Blanca Cuevas | 5:37:21 | 2001 | LA Marathon XVI | Cloud/Cool |
| 3 | Jermaine Galbert | 5:05:30 | 2002 | LA Marathon XVII | Nice | | 3 | Totianta Dunn | 5:44:56 | 2002 | LA Marathon XVII | Nice |
| 4 | Rene Estupinian | 5:09:36 | 1999 | LA Marathon XIV | Nice | | 4 | Maribel Gonzalez | 6:38:46 | 2000 | LA Marathon XV | Rainy/Cold |
| 5 | Beny Montenegro | 5:10:43 | 2000 | LA Marathon XV | Rain/Cold | | 5 | Noelia DeLaTorre | 6:38:50 | 2001 | LA Marathon XV | Rainy/Cold |
| 6 | Justin McCollums | 5:14:49 | 2003 | LA Marathon XVIII | Nice | | 6 | Liliana Alonso | 6:42:56 | 1999 | LA Marathon XVI | Cloud/Cool |
| 7 | Jaime Rodriguez | 5:17:57 | 1998 | LA Marathon XIII | Wind | | 7 | Casy Marin | 6:45:22 | 1999 | LA Marathon XVI | Cloud/Cool |
| 8 | B.J. Holland | 5:25:20 | 2001 | LA Marathon XVI | Cloud/Cool | | 8 | Maribel Gonzalez | 6:55:28 | 2001 | LA Marathon XIV | Nice |
| 9 | Ramiro DeLaCruz | 5:53:19 | 2002 | LA Marathon XVII | Nice | | 9 | Cristina Ramirez | 6:58:58 | 2002 | LA Marathon XVII | Nice |
| 10 | Rene Estupinian | 5:53:53 | 2000 | LA Marathon XV | Rain/Cold | | 10 | Luz Toledo | 7:37:02 | 2002 | LA Marathon XVII | Nice |
| | Mendoza's Best | 4:55:06 | 1999 | LA Marathon XIV | Nice | | | Manyweather's Best | 6:49:52 | 1999 | LA Marathon XIV | Nice |
Evelyn Cruz and Bianca Cuevas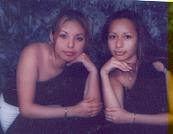 Girls Record Holders
All Johnson Marathon Runners 1998-2003
Last Name
First Name
Year
Time
1
1
Rodriguez
Jaime
1998
5:17:57
2
2
Sencion
Steve
1999
4:26:52
3
3
Estupinian
Rene
1999
5:09:36
4
4
Bingham
Maurice
1999
6:03:14
5
5
Flores
Aron
1999
6:13:27
6
6
Orejel
Oscar
1999
6:13:35
7
7
Ramirez
Jose
1999
6:27:26
8
8
Bustamante
Peter
1999
6:39:42
9
9
Gonzalez
Maribel
1999
6:55:28
10
10
Ramirez
Lorena
1999
9:06:12
11
11
Ellison
Toni
1999
9:06:56
12
12
Reed
Cheryl
1999
9:06:57
13
13
Montenegro
Beny
2000
5:10:43
14
Estupinian
Rene
2000
5:53:53
15
14
Gonzalez
Maribel
2000
6:38:46
16
15
DeLaTorre
Noelia
2000
6:38:50
17
16
Cheshier
David
2000
7:10:18
18
17
Bainton
Alrick
2000
8:14:49
19
18
Holland
B.J.
2001
5:25:20
20
19
Cruz
Evelyn
2001
5:37:21
21
20
Cuevas
Blanca
2001
5:37:22
22
21
Mecina
Jose
2001
6:02:26
23
22
Alonso
Liliana
2001
6:42:56
24
23
Marin
Casy
2001
6:45:22
25
24
Bolanos
Josue
2001
7:22:54
26
25
George
Kaiesha
2001
7:39:58
27
26
Ramirez
Marina
2001
8:10:59
28
Mecina
Jose
2002
4:36:48
29
27
Gilbert
Jermaine
2002
5:01:56
30
28
Dunn
Totiana
2002
5:46:14
31
29
DeLaCruz
Ramiro
2002
5:56:53
32
30
Beltran
Omar
2002
6:12:34
33
31
Velazquez
Luis
2002
6:56:05
34
32
German
Roy
2002
6:57:18
35
33
Ramirez
Cristina
2002
6:58:58
36
34
Toledo
Luz
2002
7:37:02
37
35
Calderon
Maria
2002
7:37:02
38
36
Tejada
Cindy
2002
8:17:42
39
37
McCollums
Justin
2003
5:14:49
40
38
Sanders
Christian
2003
6:10:25
41
39
DeLaCruz
Ramiro
2003
7:15:05
42
Ramirez
Cristina
2003
7:15:06
43
40
Martinez
Leticia
2003
7:50:46
44
41
Renteria
Ivet
2003
8:18:13
45
42
Andrews
Brian
2003
8:24:34
46
43
Roque
Lucy
2003
8:24:54
Friends of SRLA
Mendoza
Joe
1998
5:56:40
Mendoza
Joe
1999
4:55:06
Mendoza
Joe
2000
5:54:26
Mendoza
Joe
2001
5:43:53
Mendoza
Joe
2002
6:07:28
Manyweather
Wilma
1990-2000
6:49:52
Rhea
Ms.
1995-1997
9:15:03
Twisdale
Mr.
2000
2:54:44
Manyweather
Wilma
2000
3:54:00
Bond
Alina
2001
4:58:04